Philippine Dolphins &
Whale Watching
Whales Islands Philippines
Bohol Dolphin and Whale Watching
Bohol provide the best dolphin and whale watching experience. The spotters and local guides are the former hunters of dolphins, Bryde's whales, whale sharks and manta rays of Pamilacan Island. They abandoned the centuries-old hunting tradition and participate in the new alternative livelihood program.

Pamilacan Island
The small island of Pamilacan is nestled in the heart of the Bohol Sea, the Visayas Archipelagos in the Philippines. Its name is derived from the word pilak, which is a large hooked implement made and used by the islanders to capture manta rays, whale sharks and bryde's whale.

The Bohol Sea is said to be a breeding ground of these mysterious but beautiful creatures. The island in previous times, served as a watch station against the intrusion of pirates and enemies of the Spanish colony as evidenced by the 200-year-old Spanish fort on the northeast side of the island.

Today, 235 families live in the island. The people used to hunt dolphins, whales, whale sharks and manta rays but these animals are now fully protected by law in the Philippines.
Bohol Dolphins and Whale Watching Tour Packages
---
Travel Quotes:
Like all great travellers, I have seen more than I remember, and remember more than I have seen. Benjamin Disraeli

I have wandered all my life, and I have also traveled; the difference between the two being this, that we wander for distraction, but we travel for fulfillment. Hilaire Belloc
Philippine Cuisine Island Philippines
Dishes range from the very simple, like a meal of fried salted fish and rice, to the elaborate paellas and cocidos created for fiestas, of Spanish origin. Popular dishes include: lechón (whole roasted pig), longganisa (Philippine sausage), tapa (cured beef), torta (omelette), adobo (chicken and/or pork braised in garlic, vinegar, oil and soy sauce, or cooked until dry), kaldereta (meat in tomato sauce stew), mechado (larded beef in soy and tomato sauce). More details at Philippine Cuisine Island Philippines
---
Like www.IslandsPhilippines.com/whales/ on Facebook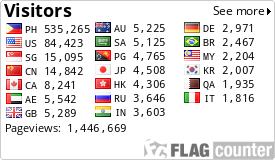 Website Visitors by Country
---
While we strive to present information as accurately as possible,
We are not responsible for any mistakes in information materials, written or any other kind.
All Rights Reserved. Islands Philippines © Copyright -
Managed by: Dotnet Business Online Inc.
Whales & Dolphins
Learn How A Fair and Balanced View Of Living In The Philippines. Not hype. Learn from EXPAT MANUAL today
---