Philippine Dolphins &
Whale Watching
Whales Islands Philippines
Dumaguete Dolphin and Whale Watching

Bais City is known for its proximity to a protected marine sanctuary in the Tañon Strait. Dense Mangrove forrests line Bais Bay. This is a natural feeding ground for cetaceans. Dolphins especially like the Mangrove forests growing into the bay to cruise for food. From the Capiñahan Wharf in the South Bay, several boats head out to the Bais Bay and into the Tañon Strait where the dolphins frolic in the water, and the whales emerge from the deep. It is fascinating to see these sea creatures up close. Other activities include swimming, sunbathing, snorkeling and scuba diving in the nearby reefs.
The adventure starts with a cruise along Bais Bay then out to Tañon Strait, the natural habitat of several whale and dolphin species. Among the kinds of dolphins you may encounter during the trip are, spotted dolphins, bottlenose dolphins and long snouted spinner dolphins. Melon headed whales, short finned pilot whales, pygmy sperm whales, pygmy killer whales and dwarf sperm whales are also found in the Tañon Strait.
Dolphin & whale watching is ideal between the months of May and September, when the waters are calmer and the winds are not too strong, thus allowing them to play in the waters and be seen by tourists.
The cruises are available from March to October, with the peak months being Philippine summer months of April and May.
---
Travel Quotes:
We travel, some of us forever, to seek other states, other lives, other souls. Anais Nin

Travel, in the younger sort, is a part of education; in the elder, a part of experience. Francis Bacon
Central Philippine Cuisine
Bicol is noted for its gastronomic appetite for the fiery or chili-hot dishes. Perhaps the most well-known Bicolano dish is the very spicy Bicol express. The region is also the well-known home of natong also known as laing or pinangat (a pork or fish stew in taro leaves).
More details at Central Philippine Cuisine
---
Like www.IslandsPhilippines.com/whales/ on Facebook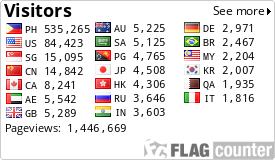 Website Visitors by Country
---
While we strive to present information as accurately as possible,
We are not responsible for any mistakes in information materials, written or any other kind.
All Rights Reserved. Islands Philippines © Copyright -
Managed by: Dotnet Business Online Inc.
Whales & Dolphins
How to Find Out Why You Should Move To the Philippines or Why it might not be right for you. Learn from EXPAT MANUAL today
---