Philippine Dolphins &
Whale Watching
Whales Islands Philippines
Palawan Dolphin Watching
Watch the long-snouted Spinner Dolphins leap and play at the waters of Puerto Princesa Bay. They are locally known as "lumba-lumba". Experience a never-to-be-forgotten moments in life, an awesome dolphin watching destination in Puerto Princesa City.

The Spinner Dolphin is sometimes referred to as the Long-snouted Dolphin, particularly in older texts, to distinguish it from the similar Clymene Dolphin which is often called the Short-snouted Spinner Dolphin.

---
Travel Quotes:
I still make sure to go, at least once every year, to a country where things cannot be taken for granted, and where there is either too much law and order or too little. Christopher Hitchens

"Everyone carries his own inch rule of taste, and amuses himself by applying it, triumphantly, wherever he travels. Henry Adams
Desserts Food, Philippine Cuisine
As a tropical oriental country it should come as no surprise there are many treats made from rice and coconuts. One often seen dessert is bibingka, a hot rice cake optionally topped with a pat of butter, slices of kesong puti (white cheese), itlog na maalat (salted duck eggs), and sometimes grated coconut. There are also glutinous rice sweets called biko made with sugar, butter, and coconut milk.
More details at Desserts Food, Philippine Cuisine
---
Like www.IslandsPhilippines.com/whales/ on Facebook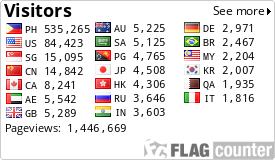 Website Visitors by Country
---
While we strive to present information as accurately as possible,
We are not responsible for any mistakes in information materials, written or any other kind.
All Rights Reserved. Islands Philippines © Copyright -
Managed by: Dotnet Business Online Inc.
Whales & Dolphins
How Much Does It Cost To Life In The Philippines? Learn from EXPAT MANUAL today
---