Philippine Dolphins &
Whale Watching
Whales Islands Philippines
Palawan Dolphin Watching
Watch the long-snouted Spinner Dolphins leap and play at the waters of Puerto Princesa Bay. They are locally known as "lumba-lumba". Experience a never-to-be-forgotten moments in life, an awesome dolphin watching destination in Puerto Princesa City.

The Spinner Dolphin is sometimes referred to as the Long-snouted Dolphin, particularly in older texts, to distinguish it from the similar Clymene Dolphin which is often called the Short-snouted Spinner Dolphin.

---
Travel Quotes:
People who dont travel cannot have a global view, all they see is whats in front of them. Those people cannot accept new things because all they know is where they live. Martin Yan

The use of travelling is to regulate imagination by reality, and instead of thinking how things may be, to see them as they are. Samuel Johnson
Philippine Cuisine Island Philippines
Puchero (beef in bananas and tomato sauce), afritada (chicken and/or pork simmered in a peanut sauce with vegetables), kare-kare (oxtail and vegetables cooked in peanut sauce), pinakbet (kabocha squash, eggplant, beans, okra, and tomato stew flavored with shrimp paste) crispy pata (deep-fried pigs leg), hamonado (pork sweetened in pineapple sauce), sinigang (meat or seafood in sour broth), pancit (noodles), and lumpia (fresh or fried spring rolls). More details at Philippine Cuisine Island Philippines
---
Like www.IslandsPhilippines.com/whales/ on Facebook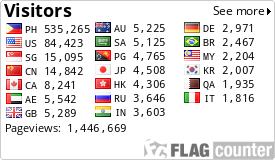 Website Visitors by Country
---
While we strive to present information as accurately as possible,
We are not responsible for any mistakes in information materials, written or any other kind.
All Rights Reserved. Islands Philippines © Copyright -
Managed by: Dotnet Business Online Inc.
Whales & Dolphins
How to Find the Woman Of your Dreams in Philippines? Learn from EXPAT MANUAL today
---