Philippine Dolphins &
Whale Watching
Whales Islands Philippines
Palawan Dolphin Watching
Watch the long-snouted Spinner Dolphins leap and play at the waters of Puerto Princesa Bay. They are locally known as "lumba-lumba". Experience a never-to-be-forgotten moments in life, an awesome dolphin watching destination in Puerto Princesa City.

The Spinner Dolphin is sometimes referred to as the Long-snouted Dolphin, particularly in older texts, to distinguish it from the similar Clymene Dolphin which is often called the Short-snouted Spinner Dolphin.

---
Travel Quotes:
Like all great travellers, I have seen more than I remember, and remember more than I have seen. Benjamin Disraeli

I have wandered all my life, and I have also traveled; the difference between the two being this, that we wander for distraction, but we travel for fulfillment. Hilaire Belloc
Main Dishes Philippine Cuisine
Adobo is one of the most popular Filipino dishes and is considered unofficially by many as the national dish. It usually consists of pork or chicken, sometimes both, stewed or braised in a sauce usually made from vinegar, cooking oil, garlic, bay leaf, peppercorns, and soy sauce. It can also be prepared "dry" by cooking out the liquid and concentrating the flavor. Bistek, also known as "Filipino beef steak," consists of thinly sliced beef marinated in soy sauce and calamansi and then fried in a skillet that is typically served with onions.
More details at Main Dishes Philippine Cuisine
---
Like www.IslandsPhilippines.com/whales/ on Facebook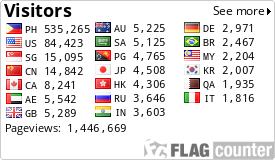 Website Visitors by Country
---
While we strive to present information as accurately as possible,
We are not responsible for any mistakes in information materials, written or any other kind.
All Rights Reserved. Islands Philippines © Copyright -
Managed by: Dotnet Business Online Inc.
Whales & Dolphins
Comprehensive 212 Page manual that continues to grow. Learn from EXPAT MANUAL today
---