Philippine Dolphins &
Whale Watching
Whales Islands Philippines
Batanes Dolphin and Whale Watching

The Babuyan Islands is an archipelago located in the Luzon Strait and north of Luzon island in the Philippines. It is separated from Luzon by the Babuyan Channel and from the Batanes Islands up north by the Balintang Channel. Whether whale watching or discovering a great beach destination is your goal, Babuyan Group of Island offers a lot for the active traveler. Babuyan Island adventure is all about dreaming a vacation after it was over.
Babuyan's biggest and most beloved visitor – the Humpback whales (megaptera novaeangliae) are arriving during summer for their annual winter holiday, marking the start of whale watching season in the islands. Humpback whales are migrating from Alaska each year to breed and calve in Babuyan's warm coastal waters, one of the Philippines marine sanctuary dedicated to whales and their habitat.
---
Travel Quotes:
People who dont travel cannot have a global view, all they see is whats in front of them. Those people cannot accept new things because all they know is where they live. Martin Yan

The use of travelling is to regulate imagination by reality, and instead of thinking how things may be, to see them as they are. Samuel Johnson
Main Dishes Philippine Cuisine
Adobo is one of the most popular Filipino dishes and is considered unofficially by many as the national dish. It usually consists of pork or chicken, sometimes both, stewed or braised in a sauce usually made from vinegar, cooking oil, garlic, bay leaf, peppercorns, and soy sauce. It can also be prepared "dry" by cooking out the liquid and concentrating the flavor. Bistek, also known as "Filipino beef steak," consists of thinly sliced beef marinated in soy sauce and calamansi and then fried in a skillet that is typically served with onions.
More details at Main Dishes Philippine Cuisine
---
Like www.IslandsPhilippines.com/whales/ on Facebook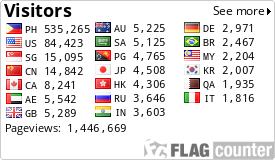 Website Visitors by Country
---
While we strive to present information as accurately as possible,
We are not responsible for any mistakes in information materials, written or any other kind.
All Rights Reserved. Islands Philippines © Copyright -
Managed by: Dotnet Business Online Inc.
Whales & Dolphins
Is The Philippines Safe? Learn from EXPAT MANUAL today
---