Philippine Dolphins &
Whale Watching
Whales Islands Philippines
Philippine Dolphins Commonly Seen
Dolphins are a daily sights in these waters. Frequently seen dolphins include the playful spinner, Risso's, Bottlenose, and the Fraser.
Spinner Dolphin

Spinner Dolphin (Stenella longirostris) is a small dolphin found in off-shore tropical waters around the world. It is famous for its acrobatic displays in which they spin longitudinally along their axis as they leap through the air. The Spinner Dolphin is sometimes referred to as the Long-snouted Dolphin, particularly in older texts, to distinguish it from the similar Clymene Dolphin which is often called the Short-snouted Spinner Dolphin. The species was described by John Gray in 1828.
Risso's Dolphin

Risso's Dolphinis the only species of dolphin in the genus Grampus. Risso's dolphin was first described by Cuvier in 1812. The species' common name is from Antoine Risso, who described a specimen to Cuvier on which Cuvier made his first description. Another common name for the Risso's dolphin is the grampus, although as a common name this was historically used for the orca. The etymology of the word grampus is unclear. It may be an aglomeration of the Latin grandis piscis or French grand poisson both meaning big fish. The specific epithet griseus refers to the mottled grey colour of the dolphin's body.
Length is typically 10 feet, although animals have been recorded up to 12.5 feet. Like most dolphins, males are typically slightly larger than females. This species weighs 300-500 kg (660-1100 lbs), making it the largest species called "dolphin", since orcas, pilot whales, etc., while actually dolphins, have no common name referring to them as such.
Bottlenose Dolphin
Bottlenose dolphins, the genus Tursiops, are the most common and well-known members of the family Delphinidae, the family of oceanic dolphins. Recent molecular studies show the genus contains two species, the Common Bottlenose Dolphin (Tursiops truncatus) and the Indo-Pacific Bottlenose Dolphin (Tursiops aduncus), instead of one. They inhabit warm and temperate seas worldwide.
Bottlenose dolphins live in groups typically of 15 members, called pods, but group size varies from single individuals up to more than 1,000. Their diet consists mainly of forage fish. Dolphins often work as a team to harvest fish schools, but they also hunt individually. Dolphins search for prey primarily using echolocation, which is similar to sonar. They emit clicking sounds and listen for the return echo to determine the location and shape of nearby items, including potential prey. Bottlenose dolphins also use sound for communication, including squeaks and whistles emitted from the blowhole and sounds
emitted through body language, such as leaping from the water and slapping their tails on the water surface.

Fraser's Dolphin
Fraser's Dolphins or Sarawak Dolphin is a cetacean in the family Delphinidae found in deep waters in the Pacific Ocean and to a lesser extent in the Indian and Atlantic Oceans.
---
Travel Quotes:
A good traveler has no fixed plans, and is not intent on arriving. Lao Tzu

All journeys have secret destinations of which the traveler is unaware. Martin Buber
Philippines Cuisine History and Influences
During the pre-Hispanic era in the Philippines, the preferred Austronesian methods for food preparation were boiling, steaming and roasting. The ingredients for common dishes were obtained from locally raised livestock. These ranged from kalabaw (water buffaloes), baka (cows), manok (chickens) and baboy (pigs) to various kinds of fish and seafood. More details at Philippines Cuisine History and Influences
---
Like www.IslandsPhilippines.com/whales/ on Facebook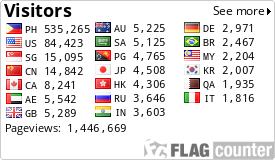 Website Visitors by Country
---
While we strive to present information as accurately as possible,
We are not responsible for any mistakes in information materials, written or any other kind.
All Rights Reserved. Islands Philippines © Copyright -
Managed by: Dotnet Business Online Inc.
Whales & Dolphins
How Much Does It Cost To Life In The Philippines? Learn from EXPAT MANUAL today
---