Philippine Dolphins &
Whale Watching
Whales Islands Philippines
Cebu Dolphin and Whale Watching


One of the most exhilarating experiences on an Islands Banca tour is the magnificent sight of a pod of dolphins at play. The most commonly seen dolphins in the waters of Cebu are the Risso's dolphin usually spotted in the northern shores of Sogod and Camotes.

Dolphin Watching Sites
* Sogod, Cebu, Philippines
* Camotes, Cebu, Philippines
These playful creatures can be seen almost all year round. But trips between march until June seem to have the highest sighting rate.

---
Travel Quotes:
People who dont travel cannot have a global view, all they see is whats in front of them. Those people cannot accept new things because all they know is where they live. Martin Yan

The use of travelling is to regulate imagination by reality, and instead of thinking how things may be, to see them as they are. Samuel Johnson
Philippine Cuisine Island Philippines
Dishes range from the very simple, like a meal of fried salted fish and rice, to the elaborate paellas and cocidos created for fiestas, of Spanish origin. Popular dishes include: lechón (whole roasted pig), longganisa (Philippine sausage), tapa (cured beef), torta (omelette), adobo (chicken and/or pork braised in garlic, vinegar, oil and soy sauce, or cooked until dry), kaldereta (meat in tomato sauce stew), mechado (larded beef in soy and tomato sauce). More details at Philippine Cuisine Island Philippines
---
Like www.IslandsPhilippines.com/whales/ on Facebook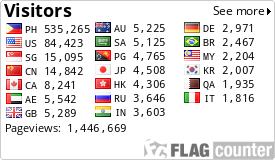 Website Visitors by Country
---
While we strive to present information as accurately as possible,
We are not responsible for any mistakes in information materials, written or any other kind.
All Rights Reserved. Islands Philippines © Copyright -
Managed by: Dotnet Business Online Inc.
Whales & Dolphins
Can I Own A Home In The Philippines? Learn from EXPAT MANUAL today
---