Philippine Dolphins &
Whale Watching
Whales Islands Philippines
Cebu Dolphin and Whale Watching


One of the most exhilarating experiences on an Islands Banca tour is the magnificent sight of a pod of dolphins at play. The most commonly seen dolphins in the waters of Cebu are the Risso's dolphin usually spotted in the northern shores of Sogod and Camotes.

Dolphin Watching Sites
* Sogod, Cebu, Philippines
* Camotes, Cebu, Philippines
These playful creatures can be seen almost all year round. But trips between march until June seem to have the highest sighting rate.

---
Travel Quotes:
Like all great travellers, I have seen more than I remember, and remember more than I have seen. Benjamin Disraeli

I have wandered all my life, and I have also traveled; the difference between the two being this, that we wander for distraction, but we travel for fulfillment. Hilaire Belloc
Philippine Cuisine Island Philippines
Puchero (beef in bananas and tomato sauce), afritada (chicken and/or pork simmered in a peanut sauce with vegetables), kare-kare (oxtail and vegetables cooked in peanut sauce), pinakbet (kabocha squash, eggplant, beans, okra, and tomato stew flavored with shrimp paste) crispy pata (deep-fried pigs leg), hamonado (pork sweetened in pineapple sauce), sinigang (meat or seafood in sour broth), pancit (noodles), and lumpia (fresh or fried spring rolls). More details at Philippine Cuisine Island Philippines
---
Like www.IslandsPhilippines.com/whales/ on Facebook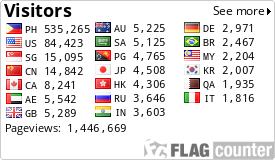 Website Visitors by Country
---
While we strive to present information as accurately as possible,
We are not responsible for any mistakes in information materials, written or any other kind.
All Rights Reserved. Islands Philippines © Copyright -
Managed by: Dotnet Business Online Inc.
Whales & Dolphins
How Long Can I Stay In the Philippines? Learn from EXPAT MANUAL today
---