Philippine Dolphins &
Whale Watching
Whales Islands Philippines
Cebu Dolphin and Whale Watching


One of the most exhilarating experiences on an Islands Banca tour is the magnificent sight of a pod of dolphins at play. The most commonly seen dolphins in the waters of Cebu are the Risso's dolphin usually spotted in the northern shores of Sogod and Camotes.

Dolphin Watching Sites
* Sogod, Cebu, Philippines
* Camotes, Cebu, Philippines
These playful creatures can be seen almost all year round. But trips between march until June seem to have the highest sighting rate.

---
Travel Quotes:
The real voyage of discovery consists not in seeking new landscapes, but in having new eyes. Marcel Proust

Certainly, travel is more than the seeing of sights; it is a change that goes on, deep and permanent, in the ideas of living. Mary Ritter Beard
Philippine Cuisine Island Philippines
Philippine cuisine consists of the food, preparation methods and eating customs found in the Philippines. The style of cooking and the food associated with it have evolved over many centuries from its Austronesian origins to a mixed cuisine of Malay, Spanish, Chinese, and American, as well as other Asian and Latin influences adapted to indigenous ingredients and the local palate. More details at Philippine Cuisine Island Philippines
---
Like www.IslandsPhilippines.com/whales/ on Facebook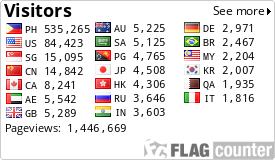 Website Visitors by Country
---
While we strive to present information as accurately as possible,
We are not responsible for any mistakes in information materials, written or any other kind.
All Rights Reserved. Islands Philippines © Copyright -
Managed by: Dotnet Business Online Inc.
Whales & Dolphins
Do I Need A Visa Before I Visit The Philippines? Learn from EXPAT MANUAL today
---