Philippine Dolphins &
Whale Watching
Whales Islands Philippines
Philippine Whale Watching
In the Philippines, over thirty species of whales and dolphins can be observed around Central Visayas, Davao Gulf, the northern coast of the province-island Palawan, and in Batanes. The Visayas is particularly known area for dolphin sightings, and is home to one of the larger populations of the Fraser's Dolphin in the world.

Dolphin species in the Visayas are attracted to fish lures and to commercial fishing operations. In the northermost province of Batanes, at least 12 species of whales and dolphins has been sighted, making it the single location in the country with the highest cetacean diversity.

There seems to be no specific whale watching season in the Philippines, although the calmer waters of the summer season typically provides the best conditions. Some populations, like those of the Humpback Whales in Batanes, appear migratory. Other populations have yet to be studied.

Some former coastal whaling communities in the Philippines have also started to generate whale watching income.
---
Travel Quotes:
People who dont travel cannot have a global view, all they see is whats in front of them. Those people cannot accept new things because all they know is where they live. Martin Yan

The use of travelling is to regulate imagination by reality, and instead of thinking how things may be, to see them as they are. Samuel Johnson
Merienda Philippines Cuisine
Merienda is taken from the Spanish, and is a light meal or snack especially in the afternoon, similar to the concept of afternoon tea. If the meal is taken close to dinner, it is called merienda cena, and may be served instead of dinner.
More details at Merienda Philippines Cuisine
---
Like www.IslandsPhilippines.com/whales/ on Facebook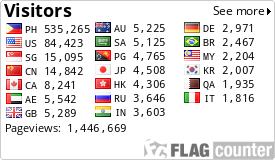 Website Visitors by Country
---
While we strive to present information as accurately as possible,
We are not responsible for any mistakes in information materials, written or any other kind.
All Rights Reserved. Islands Philippines © Copyright -
Managed by: Dotnet Business Online Inc.
Whales & Dolphins
Can I Own A Home In The Philippines? Learn from EXPAT MANUAL today
---