Philippine Dolphins &
Whale Watching
Whales Islands Philippines
Batanes Dolphin and Whale Watching

The Babuyan Islands is an archipelago located in the Luzon Strait and north of Luzon island in the Philippines. It is separated from Luzon by the Babuyan Channel and from the Batanes Islands up north by the Balintang Channel. Whether whale watching or discovering a great beach destination is your goal, Babuyan Group of Island offers a lot for the active traveler. Babuyan Island adventure is all about dreaming a vacation after it was over.
Babuyan's biggest and most beloved visitor – the Humpback whales (megaptera novaeangliae) are arriving during summer for their annual winter holiday, marking the start of whale watching season in the islands. Humpback whales are migrating from Alaska each year to breed and calve in Babuyan's warm coastal waters, one of the Philippines marine sanctuary dedicated to whales and their habitat.
---
Travel Quotes:
Never go on trips with anyone you do not love. Ernest Hemingway

Own only what you can always carry with you: know languages, know countries, know people. Let your memory be your travel bag. Aleksandr Solzhenitsyn
Philippine Cuisine Island Philippines
Philippine cuisine consists of the food, preparation methods and eating customs found in the Philippines. The style of cooking and the food associated with it have evolved over many centuries from its Austronesian origins to a mixed cuisine of Malay, Spanish, Chinese, and American, as well as other Asian and Latin influences adapted to indigenous ingredients and the local palate. More details at Philippine Cuisine Island Philippines
---
Like www.IslandsPhilippines.com/whales/ on Facebook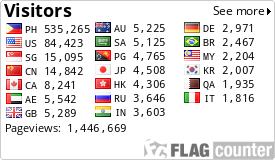 Website Visitors by Country
---
While we strive to present information as accurately as possible,
We are not responsible for any mistakes in information materials, written or any other kind.
All Rights Reserved. Islands Philippines © Copyright -
Managed by: Dotnet Business Online Inc.
Whales & Dolphins
How to Reduce The cost To Start Living In the Philippines? Learn from EXPAT MANUAL today
---