Philippine Dolphins &
Whale Watching
Whales Islands Philippines
Palawan Dolphin Watching
Watch the long-snouted Spinner Dolphins leap and play at the waters of Puerto Princesa Bay. They are locally known as "lumba-lumba". Experience a never-to-be-forgotten moments in life, an awesome dolphin watching destination in Puerto Princesa City.

The Spinner Dolphin is sometimes referred to as the Long-snouted Dolphin, particularly in older texts, to distinguish it from the similar Clymene Dolphin which is often called the Short-snouted Spinner Dolphin.

---
Travel Quotes:
Traveling, you realize that differences are lost: each city takes to resembling all cities, places exchange their form, order, distances, a shapeless dust cloud invades the continents. Italo Calvino

To travel is to discover that everyone is wrong about other countries. Aldous Huxley
Pulutan Philippines Cuisine
Pulutan (from the Filipino word pulutin which literally means "something that is picked up") is a term roughly analogous to the English term "finger food". Originally, it was a snack accompanied with liquor or beer but has found its way into Philippine cuisine as appetizers or, in some cases, main dishes, as in the case of sisig.
More details at Pulutan Philippines Cuisine
---
Like www.IslandsPhilippines.com/whales/ on Facebook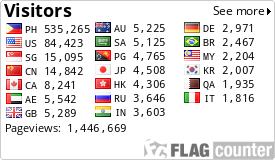 Website Visitors by Country
---
While we strive to present information as accurately as possible,
We are not responsible for any mistakes in information materials, written or any other kind.
All Rights Reserved. Islands Philippines © Copyright -
Managed by: Dotnet Business Online Inc.
Whales & Dolphins
How Long Will I Be Able To Stay In The Philippines? Learn from EXPAT MANUAL today
---