Philippine Dolphins &
Whale Watching
Whales Islands Philippines
Palawan Dolphin Watching
Watch the long-snouted Spinner Dolphins leap and play at the waters of Puerto Princesa Bay. They are locally known as "lumba-lumba". Experience a never-to-be-forgotten moments in life, an awesome dolphin watching destination in Puerto Princesa City.

The Spinner Dolphin is sometimes referred to as the Long-snouted Dolphin, particularly in older texts, to distinguish it from the similar Clymene Dolphin which is often called the Short-snouted Spinner Dolphin.

---
Travel Quotes:
Traveling, you realize that differences are lost: each city takes to resembling all cities, places exchange their form, order, distances, a shapeless dust cloud invades the continents. Italo Calvino

To travel is to discover that everyone is wrong about other countries. Aldous Huxley
Southern Philippine Cuisine
In Mindanao, the southern part of Palawan island, Sulu and Tawi-Tawi, dishes are richly flavored with the spices common to Southeast Asia: turmeric, coriander, lemon grass, cumin, and chillies — ingredients not commonly used in the rest of Filipino cooking. Being free from Hispanicization, the cuisine of the indigenous Moro and Lumad peoples of Mindanao and the Sulu archipelago has much in common with the rich and spicy Malay cuisines of Malaysia and Brunei, as well as Indonesian and Thai cuisines.
More details at Southern Philippine Cuisine
---
Like www.IslandsPhilippines.com/whales/ on Facebook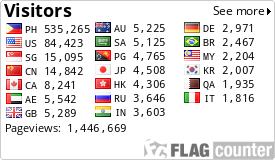 Website Visitors by Country
---
While we strive to present information as accurately as possible,
We are not responsible for any mistakes in information materials, written or any other kind.
All Rights Reserved. Islands Philippines © Copyright -
Managed by: Dotnet Business Online Inc.
Whales & Dolphins
Comprehensive 212 Page manual that continues to grow. Learn from EXPAT MANUAL today
---