Philippine Dolphins &
Whale Watching
Whales Islands Philippines
Palawan Dolphin Watching
Watch the long-snouted Spinner Dolphins leap and play at the waters of Puerto Princesa Bay. They are locally known as "lumba-lumba". Experience a never-to-be-forgotten moments in life, an awesome dolphin watching destination in Puerto Princesa City.

The Spinner Dolphin is sometimes referred to as the Long-snouted Dolphin, particularly in older texts, to distinguish it from the similar Clymene Dolphin which is often called the Short-snouted Spinner Dolphin.

---
Travel Quotes:
A good traveler has no fixed plans, and is not intent on arriving. Lao Tzu

All journeys have secret destinations of which the traveler is unaware. Martin Buber
Philippine Cuisine Island Philippines
Philippine cuisine consists of the food, preparation methods and eating customs found in the Philippines. The style of cooking and the food associated with it have evolved over many centuries from its Austronesian origins to a mixed cuisine of Malay, Spanish, Chinese, and American, as well as other Asian and Latin influences adapted to indigenous ingredients and the local palate. More details at Philippine Cuisine Island Philippines
---
Like IslandsPhilippines.com/whales/ on Facebook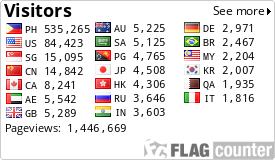 Website Visitors by Country
---
While we strive to present information as accurately as possible,
We are not responsible for any mistakes in information materials, written or any other kind.
All Rights Reserved. Islands Philippines © Copyright -
Managed by: Dotnet Business Online Inc.
Whales & Dolphins
How Long Will I Be Able To Stay In The Philippines? Learn from EXPAT MANUAL today
---