Philippine Dolphins &
Whale Watching
Whales Islands Philippines
Whale Watching is the practice of observing whales and other cetaceans in their natural habitat. Whales are watched most commonly for recreation but the activity can also serve scientific or educational purposes. While individuals do organize private trips, whale watching is primarily a commercial activity, estimated to be worth up to $1 billion per annum worldwide to whale watching operations and their local communities. The size and rapid growth of the industry has led to complex and continuing debates with the whaling industry about the best use of whales as a natural resource.
-------------------------------------------------------------------------------------------------------
History of Whale Watching...

Organized whale watching dates back to 1950 when the Cabrillo National Monument in San Diego was declared a public venue for observing Gray Whales. In 1955 the first water-based whale watching commenced in the same area, charging customers $1 per trip to view the whales at closer quarters. The spectacle attracted 10,000 visitors in its first year and many more in subsequent years. The industry spread throughout the western coast of the United States over the following decade.

In 1971 the Montreal Zoological Society commenced the first commercial whale watching activity on the eastern side of North America, offering trips in the St. Lawrence River to view Fin and Beluga Whales.

By 1985 more visitors watched whales from New England than California. The rapid growth in this area has been attributed to the relatively dense population of Humpback Whales, whose acrobatic behavior such as breaching and tail-slapping thrilled observers, and the close proximity of whale populations to the large cities there.

Throughout the 1980s and 1990s whale watching spread worldwide. In 1998 Erich Hoyt carried out the largest systematic study of whale watching yet undertaken and concluded that whale watching trips were now available in 87 countries, with over 9 million participants, producing direct and indirect revenues of over one billion dollars. His estimate for 2000 was for 11.3 million participants spending $1.475 billion, a five-fold increase over the decade.

Whale watching is of particular importance to developing countries. Coastal communities have started to profit directly from the whales' presence, significantly adding to popular support for the protection of these animals from commercial whaling.
---
Travel Quotes:
One travels more usefully when alone, because he reflects more. Thomas Jefferson

Just got back from a pleasure trip: I took my mother-in-law to the airport. Henny Youngman
Philippines Cuisine Characteristics
The traditional way of eating is with the hands, especially dry dishes such as inihaw or prito. The diner will take a bite of the main dish, then eat rice pressed together with his fingers.
This practice, known as kamayan, is rarely seen in urbanized areas. However, Filipinos tend to feel the spirit of kamayan when eating amidst nature during out of town trips, beach vacations, and town fiestas.
More details at Philippines Cuisine Characteristics
---
Like www.IslandsPhilippines.com/whales/ on Facebook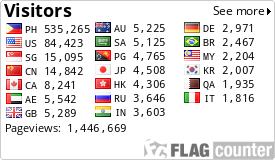 Website Visitors by Country
---
While we strive to present information as accurately as possible,
We are not responsible for any mistakes in information materials, written or any other kind.
All Rights Reserved. Islands Philippines © Copyright -
Managed by: Dotnet Business Online Inc.
Whales & Dolphins
Learn How A Fair and Balanced View Of Living In The Philippines. Not hype. Learn from EXPAT MANUAL today
---