Philippine Dolphins &
Whale Watching
Whales Islands Philippines
Pamilican Island, Bohol Dolphin and Whale Watching Tour Packages
Go watch whales and dolphins in the Bohol Sea with the locals of Pamilacan. Ex-whale-hunting boats called canter have been refitted specifically for a safe and comfortable trip. The boats, measuring 15 to 20 meters in length, can accommodate up to seven passengers. Each of these crafts is furnished with seats and roofing, and equipped with life vests. You will be accompanied by skilled spotters whose familiarity with the area also makes them excellent guides. The best season is the months from March to June, but resident dolphins and small whales can be found all year round. Tours are dependent on weather and sea conditions.

What to Bring
Wear light clothing preferably with a bathing suit underneath, soft-soled flat shoes or slippers, sunglasses, sun hat and sun jacket. Expect a rough ride and expect to get wet! So bring extra clothes, a towel and take motion sickness pills. Others important things to bring include binoculars, camera and film, skin lotion, snorkeling equipment.

Bohol Tour Packages Type:

* Dolphin & Whale Watching Tour - Bohol Tour Package 1
* Dolphin & Whale Watching and Island Hopping Tour - Bohol Tour Package 2
* Bohol Countryside Tour - Bohol Tour Package 3
* Combined Dolphin & Whale Watching & Bohol Countryside Tour - Bohol Tour Package 4
* Island Hopping Pamilacan Tour - Bohol Tour Package 5
Bohol Philippines Dolphin & Whale Watching
---
Travel Quotes:
Wherever you go, go with all your heart. Confucius

The world is a book, and those who do not travel read only a page. Saint Augustine
Philippine Cuisine Island Philippines
Philippine cuisine consists of the food, preparation methods and eating customs found in the Philippines. The style of cooking and the food associated with it have evolved over many centuries from its Austronesian origins to a mixed cuisine of Malay, Spanish, Chinese, and American, as well as other Asian and Latin influences adapted to indigenous ingredients and the local palate. More details at Philippine Cuisine Island Philippines
---
Like www.IslandsPhilippines.com/whales/ on Facebook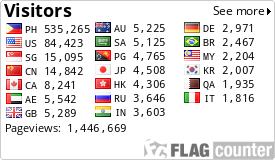 Website Visitors by Country
---
While we strive to present information as accurately as possible,
We are not responsible for any mistakes in information materials, written or any other kind.
All Rights Reserved. Islands Philippines © Copyright -
Managed by: Dotnet Business Online Inc.
Whales & Dolphins
How To Drastically Cut Your Cost of living Philippines? Learn from EXPAT MANUAL today
---